Home Health and Hospice (HHH) Provider Outreach and Education (POE) Advisory Group Meeting Minutes: October 22, 2020
Facilitators
Dan George, MaKisha P. Callaham, Cara Mia Wilkins, Elizabeth L. Brogdon and Charles Canaan
Attendees: 19
Welcome
Our goals are:
Establishing and maintaining strong relationships with Palmetto GBA and our provider community
Meeting with Palmetto GBA and the provider community on a quarterly basis
Providing the communication tools to facilitate thorough and prompt transfer of information
Coordinating issues within the provider community to adequately reflect the concerns of the majority
POE-AG Goals and Purpose — HHH POE-AG Charter
Old Business: Prior POE-AG Suggestions/Recommendations
No old business.
New Business: POE-AG Training Suggestions and Education Recommendations
Participating members have the opportunity to benefit the provider community by helping to guide Palmetto GBA educational strategy for the upcoming year.
Information to Share
Home Health and Hospice Adjustments/Cancels Job Aid (PDF, 250 KB)

Submitting an adjustment to, or cancellation of, a claim can be done electronically or by using the Direct Data Entry (DDE) system. In addition to the usual claim information, this job aid shows you what fields are required on the
UB-04 and in DDE to adjust and cancel claims.

Repayment of Coronavirus Accelerated and Advance Payments

The recently enacted "Continuing Appropriations Act, 2021 and Other Extensions Act" amended the repayment terms for the Expanded Accelerated and Advance Payments (AAP) Program. Accordingly, repayment of any AAP will now begin one (1) year from the issuance date of the AAP.

COVID-19 Accelerated/Advance Payment (AAP) Repayment FAQ

These FAQ were created to help providers understand the process and options of repaying accelerated/advance payments (AAPs) issued for COVID-19

Provider Relief Fund CMS Phase 3 (PDF, 474 KB)

The deadline to submit both Tax Identification Number (TIN) and all financial information is November 6, 2020, at 11:59pm ET. Please submit applications quickly to expedite the calculation and distribution of payments.
Phase 3 supports providers who have experienced expenses and/or lost revenues attributable to COVID-19 that have not been reimbursed by other sources
HHS has allocated up to $20 billion, making Phase 3 one of the largest PRF distributions to date

MLN Matters Number: MM11721 (PDF, 168 KB): New Codes for Therapist Assistants Providing Maintenance Programs in the Home Health Setting

Centers for Medicare & Medicaid Services (CMS) stated that it would be appropriate to allow therapist assistants to perform maintenance therapy services under a maintenance program established by a qualified therapist under the HH benefit, if acting within the therapy scope of practice defined by their state licensure laws
Effective Date: January 1, 2020
Implementation Date: October 5, 2020

G2168: Services performed by a physical therapist assistant in the home health setting in the delivery of a safe and effective physical therapy maintenance program, each 15 minutes
G2169: Services performed by an occupational therapist assistant in the home health setting in the delivery of a safe and effective occupational therapy maintenance program, each 15 minutes
Upcoming Education Events
eServices
eServices Hospice Eligibility Tab Enhancement

The eServices Hospice Eligibility tab has been recently been modified to accommodate additional hospice data. You can now view:

The number of hospice days used per period;
The Date of Earliest Billing Activity (DOEBA); and
The Date of Latest Billing Activity (DOLBA)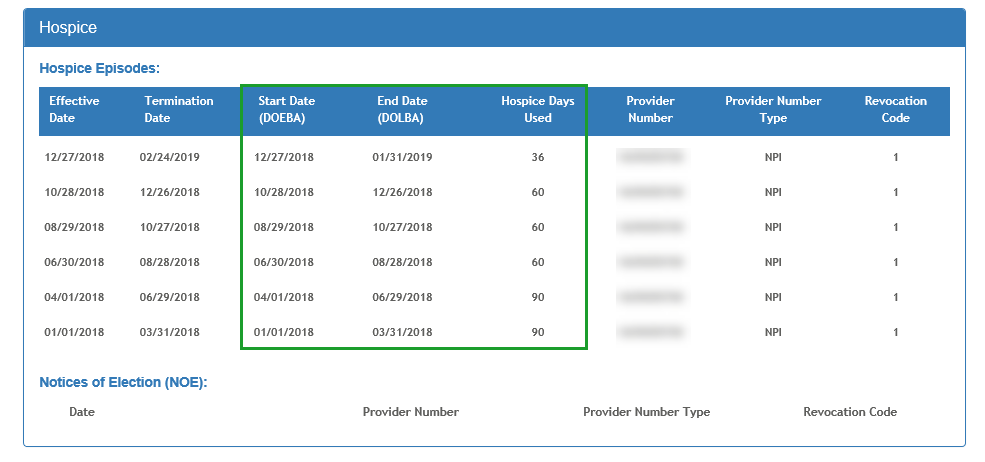 Access All Three Targeted Probe and Educate (TPE) Letters Electronically

Due to COVID-19, Targeted Probe and Educate Reviews are currently on hold. When TPE resumes, all active eServices provider accounts will be able to receive the following TPE letters:

Initial Notification Letters (implemented October 10, 2020)
Additional Documentation Requests (ADR)
Results Letters

New: Pre-Claim Review (PCR) Enhancements

Default the End Date for the Billing Period
Addition of two new G-codes that describe therapy assistant services
Open Discussion
Question: The other hospice MACs have started to issue ADRs for General Inpatient Care (GIP). Will Palmetto GBA do the same?
Answer: Yes, all the hospice MACs have implemented Service Specific Postpayment Medical Reviews. For hospices, the edit topic is GIP, with a focus of the review of inpatient claims for GIP greater than or equal to 7 days for Revenue Code 656 and place of service codes Q5004–Q5009. Please see the article titled Active Service Specific Postpayment Medical Reviews for a complete list of Palmetto GBA active reviews.
Question: Has the Hospice Payment Rates for Routine Home Care (RHC) issue on the Claims Payment Issues Log (CPIL) been resolved with the October 2020 System Release?
Answer: At the date the of the October 22, 2020, Palmetto GBA was unsure if the payment issue was resolved. We have since found that a fix for this issue was not implemented in the October 2020 Release. CMS and the Fiscal Intermediary Standard System (FISS) maintainer are aware of this issue and are working on a solution. No additional updates are available at this time. We will provide updates as soon as they are available. The CPIL was updated on October 27, 2020, to provide the latest update.
Question: Is there any education planned for the Penalty for Delayed Request for Anticipated Payment (RAP) Submission and other RAP changes beginning on January 1, 2021?
Answer: Yes, first we have the RAP Updates for CY 2021 Webinar scheduled on November 11, 2020. This webinar has been advertised to the RCD states only. We also are hosting a second webinar on November 19, 2020, for all HHAs.
Question: Is it possible for Palmetto GBA to create a guide or job aid for the RAP changes in 2021?
Answer: Yes, we will review the changes and create a job aid to assist with understanding the RAP changes for 2021.
Question: How can we be assured that ADRs and initial notification letters be will followed through eServices and are not missing any letter?
Answer: There are now four ways to receive ADRs:
eServices — For a short period of time you will still continue to receive both the mailed hardcopy ADR and the eDelivery electronic ADR in eServices. We will notify you when the hardcopy mailings will be discontinued.
Electronic Medical Documentation Requests (eMDR) (PDF, 388 KB) – CMS has added the functionality to send ADRs electronically
U.S. Mail
Direct Data Entry (DDE) – Prepayment audits only
Note: With the MACs resuming medical review on a post-payment basis, ADRs will not be available via DDE.
Closing
The next POE-AG Meeting date is scheduled for January 14, 2021.
---
Last Updated: 11/04/2020